Shopping Cart
Your Cart is Empty
There was an error with PayPal
Click here to try again
Thank you for your business!
You should be receiving an order confirmation from Paypal shortly.
Exit Shopping Cart
PET SITTING AND BOARDING
with D&B's
Large and Small...We Care For Them All
PET SITTING & BOARDING RATES
Serving Cedar City proper
Initial Booking Consultation 30-90 minutes….…………$25
This amount will be transferred to your first pet sit. At this visit we can complete the necessary paperwork, answer questions, transfer keys, and tour your home while discussing detailed instructions on how to care for your pets and fees negotiated. This required meeting will be scheduled at least 48 hours prior to service not including overnight pet sitting.
Drop In 5 -10 Minutes ……………………………....………$25.00
Short drop in to transfer keys (pick up or drop off), check iron/stove, turn off sprinkler system, close windows, quick turnout, cat care, or potty break.
Regular Visit 20-30 Minutes …………………$35.00
Our most popular choice. Good for many multiple pet homes, supervised feedings, walks, and play. Most dogs will require 2-4 Regular visits per day. Cats are best with 1 visit per day.
Extended Visit Minimum 40-45 Minutes ……………….$40.00
Best for long walks, multiple pet homes, pets with special diets or pets with special needs. Good for horses & hobby farms and lawn watering.
Hourly Care Minimum 60-70 Mins…………………..….…$50 first hour & $35 each addit'l
Choose One Hour Increments of care.
All dog's boarding at D&B's must go through a required assessment to have long term lodging.
Day Assessment $35 / per dog. (Hours available 9 am to 5 pm)
Overnight Assessment $50 / per dog
(Dog's must be picked up before 11 am on the following morning to not incur an additional day care charge)
Boarding per day..............................…$50.00
*See our Boarding Page for more info.
Doggie Day Care per day...........................................$35.00
(9AM-5PM)
****For Drop Off before 9 am and Pick-ups after
hours there is a $10.00 per hour charge.
Important Terms:
Payment is due prior to departure. Cash, Checks, Venmo, Visa and Mastercard are accepted. There is a $50 charge on all returned checks. A separate signed & completed Service Request is also due for each service, before each service starts.
Being able to meet the scheduling needs of our clients is very important to us. Therefore, if you cancel a scheduled sitting with less than 48 hours notice, you will be assessed a Cancellation Fee.
Our charges are based on a per visit NOT per pet price and include complimentary mail and newspaper pick-up, pet waste pick-up, trash to curb, indoor or outdoor plant watering and more.

*Prices, subject to change without notice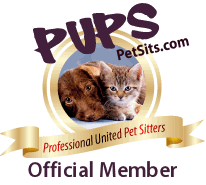 /